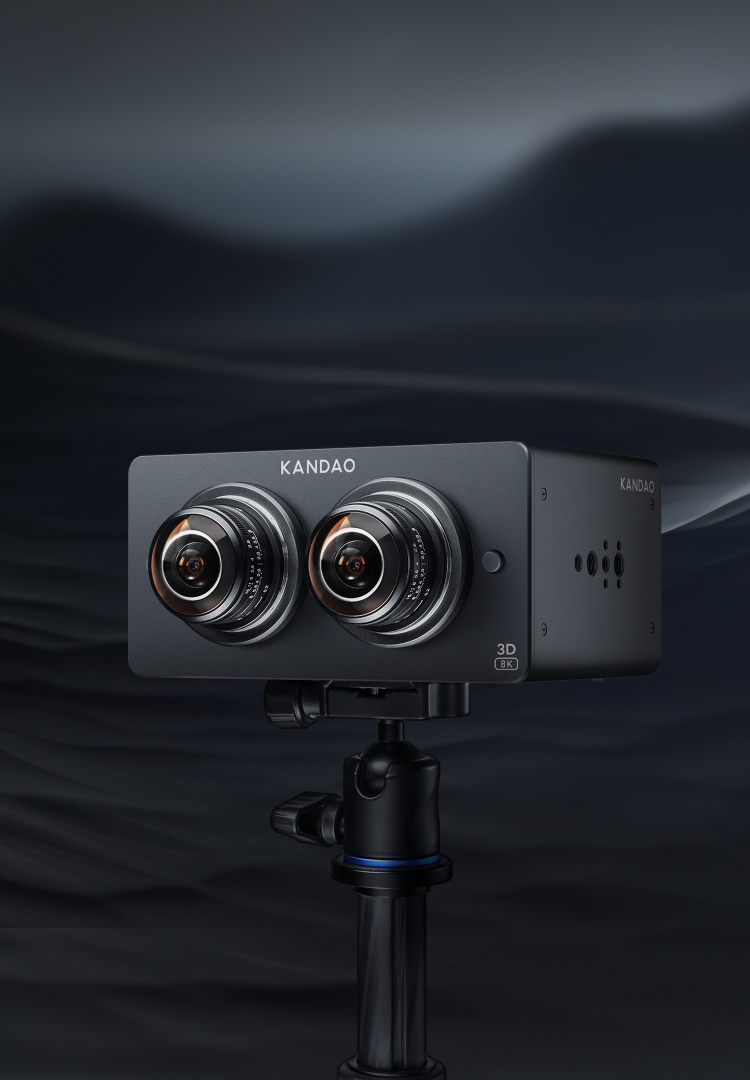 Kandao
VR Cam
8K 3D VR180 Camera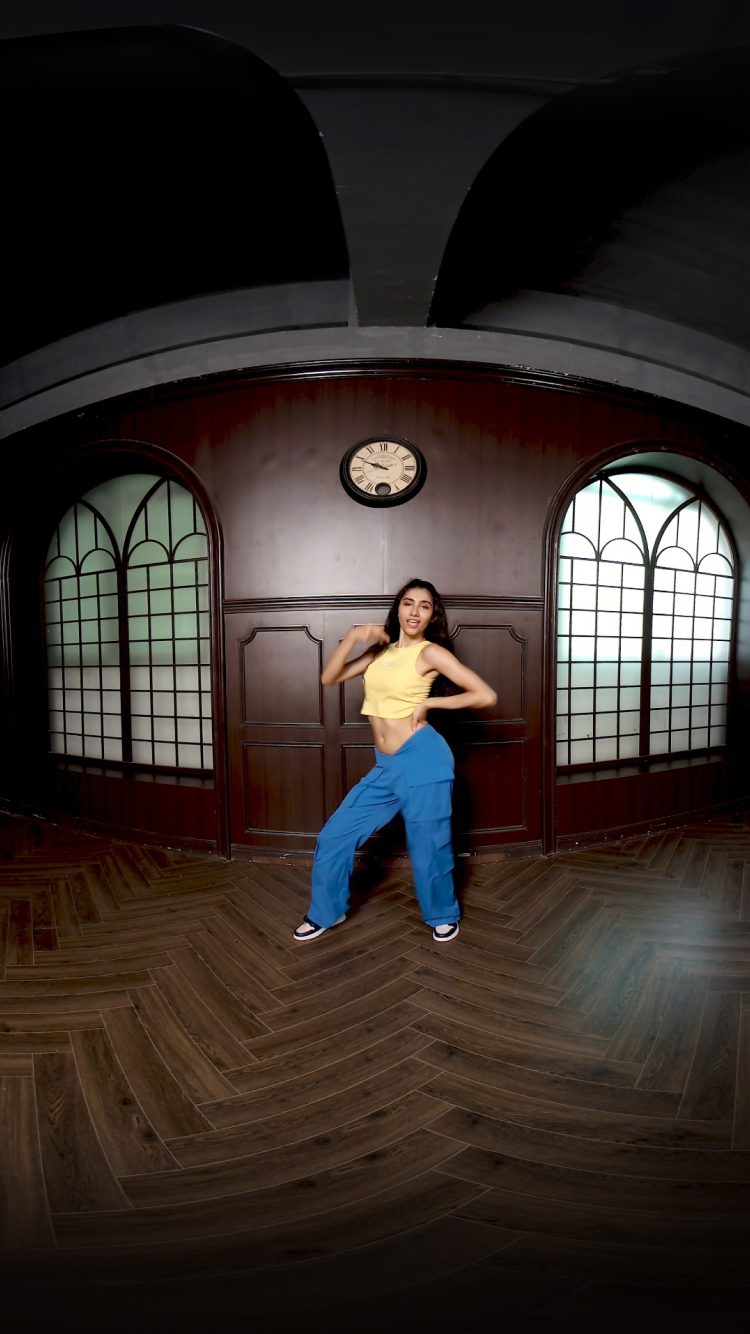 Kandao VR Cam delivers real-time 8K 3D images, enabling high-quality 180 3D live-streaming. With a single click, VR180 3D live content can be streamed effortlessly. It seamlessly integrates with live-streaming software, and Kandao Stream for stable, smooth, and immersive ultra-high-definition live broadcasting, simplifying the process and enabling easy initiation of VR live streaming.
Real 8K 3D Live-streaming
8K Ultra Clarity with Visual Impact
The Kandao VR Cam enables true 8K 3D live broadcasting with its dual 4K resolution. Equipped with a 4/3 sensor, it offers improved resolution, dynamic range, and detail retention in various lighting conditions. It effectively suppresses noise in low-light scenarios, providing an unparalleled immersive experience in realistic 8K 3D visuals that captivate the audience.
True-to-Life Color Representation
Precise Color Reproduction
Drawing inspiration from the Obsidian series' color toning style, this enhancement ensures accurate color representation and optimized skin tone processing, resulting in clear, realistic live broadcasts. Users are always shown at their best.
Professional Imaging
Kandao's Pioneering
VR Technology
A pioneer in 3D 360 VR imaging, Kandao Technology is renowned for world-leading technology and professional VR products that set industry benchmarks. Leveraging self-developed algorithms, we are committed to delivering a master-level imaging experience to consumers. We strive to restore image details, endowing each product with extraordinary imaging capabilities.
Lens Selection
Carefully Selected Lenses for Superior Image Quality
We carefully selectd and strictly evaluated lenses that meet specifications to ensure extraordinary image quality, offering you the best matching options.
Algorithm Optimization
Advanced Algorithm for Your Ultimate Image Perfection
Optimized computer vision algorithm is utilized to enhance image quality by minimizing the undesirable purple fringing effect resulting from inherent flaws in lens design.
Professional Live-streaming Software Kandao Stream
Easy to Operate
Powerful and Easy-to-use
Kandao Stream is a professional desktop live-streaming software. Its user-friendly interface allows for quick configuration of your live broadcasts or recordings, significantly lowering the learning curve. Whether you're a professional user or a beginner, Kandao Stream makes it effortless to get started.
Real-time Stitching and Setup
Quickly Start Live-streaming with Simply One-click
With just one click, Kandao Stream software effortlessly connects to the Kandao VR Cam, enabling 8K 3D live-streaming. It realizes real-time stitching during live-streaming. Users have the flexibility to adjust camera parameters, streaming resolution, and bitrate, enhancing their broadcasting experience.
One-click Parallax Correction
Effortless Parallax Adjustment for Comfortable Viewing
With a single click, Kandao Stream corrects parallax in live-streaming, ensuring a comfortable and realistic 3D viewing experience. No need to worry about increased parallax, even at close distances.
Support up to 150Mbps Bitrate
Recording while Live-streaming
In Kandao Stream software, users can select simultaneous 8K live-streaming and recording. This offers users the ability to share thrilling moments in real-time with the audience through live broadcasts, while also capturing high-quality footage for post-production. It provides a diverse range of content creation and sharing options for users.
Outstanding Lens Color Correction Capability
Experience Lifelike Scenes with Best Visual Effects
With the function of lens color correction, it swiftly addresses issues like purple fringing, distortion, and vignetting. The real-time processing greatly imrpoves image quality, unveiling vibrant colors, and ultimately delivering an outstanding and lifelike visual experience.
Support Professional Sound Card Equipment
Provide a Top-notch Audio Experience
By connecting with premium professional sound card equipment, it provides more posibilities for creation and tuning, and ensure the top-notch audio quality in live streaming. The precise synchronization of audio and video delivers an unparalleled immersive live experience to audiences.
Low Latency Live Streaming
Support Multiple Live Streaming Protocol
It supports protocols including RTMP, RTMPS, SRT and SDI, providing flexible and diverse options for live streaming transmission, and ensuring a stable, low-latency and high-quality live streaming experience.
H.265 Live Coding
With H.265 live coding, Kandao VR Cam has superior image quality while maintaining smaller file sizes.
Pixel Synchronization with Real-time Rendering
It synchronously renders the images of left and right eye at the pixel level, ensuring the image consistency of both eyes and provides an enhanced and more realistic stereoscopic experience.
Standard Pupillary Distance Design of 65mm
Providing a comfortable stereoscopic vision that matches the human eye parallax, enhancing 3D effects while reducing dizziness.
Robust Camera Body with Versatile Interfaces
The pure space aluminum body is equipped with multiple standard interfaces, allowing seamless connection with a wide range of accessories.
Support Lenses Switch
It outputs various formats of 8K 3D contents, providing users with greater flexibility and freedom in content creation.
POE Power Supply
The deploment is easy as both power supply and data transmission can be achieved by a network cable.
Provide SDK for Custom and Extended Camera
With the provided Soft Development Kit (SDK), users can customize the platform according to their requirements, effortlessly connect the camera to a third-party software, and unlock more application scenarios.
Fully Equipped
Kandao VR Cam is fully equipped, and it is ready to use upon boxing. The safety box provides robust protection for the camera and make it easy to carry.
Assured Quality Service for Confident Purchases
Our company specializes in the advancement and innovation of VR software and hardware. With a profound understanding of customer demands, we actively engage with their feedbacks and consistently improve the quality of our products.
Efficient heat dissipation ensures
stable camera performance